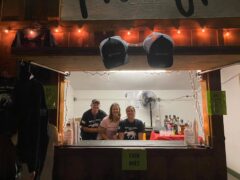 We sell liquor, beer, wine, mixer and gifts. Come check out our selection, bringing in new stuff all the time! We are also a drop off for Fed Ex and UPS. $1/package for drop off, $5/package to make a label for UPS.
GLACIER 45 premium spirits are inspired by Oregon's active outdoor community and ultra-pr […]
Good food, good people! Resturant located in Sumpter, Oregon.
We are a convenient store, with fuel and diesel. We also sell hunting and fishing license […]